It's time for another post from our guest blogger Daniel! Here at We Like TV, we don't watch much reality television and never got into American Idol (between the two of us, we have seen <1 episode). Daniel, however, is a big American Idol fan, so enjoy his recap of the show and critique of the performances!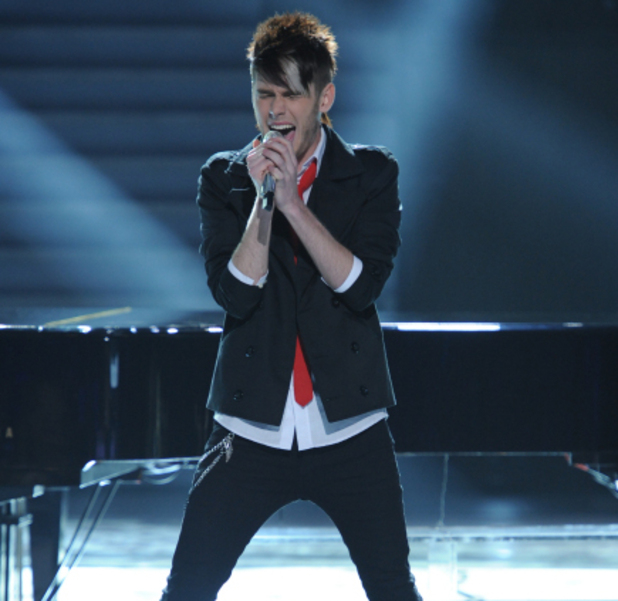 Colton Dixon was the highlight of the first night of live performances
Last night was the first live show in the 11th season of
American Idol
, meaning that from this point forward, America get to decide who moves on in the competition. Before we go over the performances of the Top 12 13 guy contestants, last night, Ryan Seacrest announced some changes to the show. For one, only five guys and five girls will be voted in by America. The judges then each have one save which they can use to bring back anyone in the top 24 who didn't make it to the top 13. Also a note about the way I grade them: I grade them based only on their performance, not on any previous ones. When we get to the top 12 I will start doing overall rankings, but for now the grades are based solely on the one performance. Now, as
Brian Fellow
would say "Let's get going!"
Reed Grimm
Moves Like Jagger
I had high expectations for Reed going into this week and sadly I didn't really think he met them. His "Moves Like Jagger" was interesting, but turning a Maroon 5 song into the jazzy tune he sang might have been too gutsy. Also drumming in the middle of the song? Also possibly too gutsy. Another problem was that it started out really slow, but when he got to the drums, he seemed to get more comfortable and he showed us the Reed that impressed me so much in Hollywood week. He also confirmed that he is very similar to last season's Casey Abrams. Also interesting that he chose a song so associated with The Voice. I like him, he seems like a really nice guy and I actually hope he makes it but performance wasn't what I was expecting from Reed. B-
Where do I begin with this one? The only word I can think of to describe Adam's performance of "Think" is "weird". Not only did he choose an Aretha Franklin song, but in his video he said that many people think that "There is a large black woman stuck inside me." WHAT?!?!?! WHAT DOES THAT EVEN MEAN?!?!?! AND THEN SINGING AN ARETHA FRANKLIN SONG?!?!?! HUH? I guess it was ok. No bad notes, but still. I don't think America wants an emotional, geeky-looking white guy, who acts like a large, black woman as their American Idol. Maybe as a recurring character on 30 Rock, but not as an American Idol. B-
Also at this point I remembered that Randy, J-Lo and Steven just compliment people during the live shows and don't really give any honest opinions anymore.
DeAndre Brackensick
Reasons
*Worst Performance Of The Night*
I want to like him. He seems like a nice guy. He has fun on stage. But it's hard when he sings the whole song in falsetto. Literally, he almost sang the entire song in falsetto and it made some of his bigger falsetto notes less impressive. His last note was really nice and it had a nicer tone. If he had sang the whole song like that and slipped the falsetto in every now and again he would have done much better. He has some skills but this performance just wasn't very good. Also, did it look like Steven cut off J-Lo? C-
Colton Dixon
Decode
*Best Performance Of The Night*
Ah Colton. One of my favorites. He's likeable. He's funny. He's talented. Last season when he didn't make the top 24 I was outraged (especially considering he lost the spot the Brett Lowenstern but that's another story). I was thrilled to see him come back and he has torn it up in Hollywood. I had very high expectations for Colton. And he met them. He chose a perfect song: Paramore's "Decode." This was just fantastic. You could feel his passion and intensity. Every note was great. And jumping up on the piano and singing?!? WOW! AWESOME! I agree with J-Lo that when he's at the piano you can really feel his heart but I also think it's a good thing he branched out and didn't stay behind the piano for the whole performance. His show reminds me of a Chris Daughtry-James Durbin hybrid. And he's 19! A
Jeremy Rosado Gravity
This kid must be one of the nicest contestants that has ever been on Idol. And he sang his heart out. He was loud, clear, and incredibly genuine. He really nailed that last note. And he's 19 too! Nothing else to say, really, besides WOW. A
Aaron Marcellus
Never Can Say Goodbye
Hey, a New Yorker! Aaron flew under the radar for most of Hollywood week, getting through without creating a lot of buzz. He chose a great song for him (that makes 3 good song choices in a row, him Colton and Jeremy) and he did a good job in his first live performance. It wasn't really anything super special but he sang very well. It might have been a bit generic but this early in the contest, that's ok. Overall, very nice showing for Aaron Marcellus. B+
Chase Likens Storm Warning
The good ole country boy didn't get much screen time in Hollywood so a lot was riding on this performance for him. He chose a song I had never heard of by an artist I had never heard of. However, he did a really good job. He worked the stage, he had fun, and he sang near perfect vocals. Chase really stepped up to the plate here, fearlessly did his thing, and did it well. A-
Creighton Fraker
True Colors
Lets just be honest about this guy. He is very quirky and quite honestly he's probably too weird to make it far, regardless of what kind of singer he is. He is also, most likely, gay, which I don't have any problem with, but I know some people in America will. Another thing that won't do him favors, his super over the top rainbow lights that accompanied his performance. He sang well but not really well. By all means he has a good voice but the next day I had forgotten all about this performance. But as I said before, in poor Creighton's case, it doesn't matter how great he sings, he's too off beat for America. B
Phillip Phillips
In The Air Tonight
This young man is both charming and incredibly talented. I had higher expectations for him (along with Colton, Reed, Joshua, Eben, see below) then I did for the others and this, well, was a huge disappointment. When I heard what song he was singing I thought "oh, nice" but Phillip really let me down. The melody was way too slow and he didn't really do much with the song. It didn't really give him any places to shine and while he nailed the last note, the beginning was so sub par that it can't be overlooked. Randy, while he did cop out by complimenting Phillip's guitar and saying "I'm a fan", was absolutely right about the melody. I still want Phillip to make it to the next round cause I think he's that good but this was a rough one. Pull it together next week Phillip! I think America will give you the chance. C-
Eben Franckowitz Fire To The Rain
EBEN!!! I really like Eben. For one, he's relatable and it's cool to see someone my age (15) on the show. Two, I think he may be Jewish (also like me), which would be awesome. Him and Colton are probably my two favorites. However I was determined not let any of these factors affect the way I evaluated him. I thought he was really good. He started off really strong and even though in the middle he sounded a little flat at times, he pulled it together with a fantastic ending. Like super good. The other problem was when he got to the first chorus, his voice was kinda drowned out a little by the music. However, as Randy and J-Lo both said, he really showed composure and the way he pulled himself together to absolutely NAIL THE END was impressive. Like I said when talking about Aaron's performance, its just the beginning. We are looking for talent, potential, overall appeal and intangibles, all of which Eben has. And it is so wrong that he is on vote for the worst. Anyway, keep your head up Eben! B+
Heejun Han Angles
Ok. Lets be honest. This guy has a great personality. Did anyone see him at the beginning of the show when he mouthed along to Ryan saying "This is Ammmerrrrican Idol?" He's super funny and seems very well liked by all the other contestants and on top of all that he works with kids with special needs! Honestly when his performance started I was kinda disappointed his video was over cause he is so funny. Then I noticed his glasses. It looked like there was no glass! It looked like just a pair of frames. About his actual performance, when I heard what song he chose I thought it was a good choice. However, by the first chorus it became clear that it was not. His voice sounded weak. Sorry Heejun. C-
Joshua Ledet You Pull Me Through
First things first. I thought his name was pronounced Le-DAY, with a silent T but it is actually the way it sounds. Ledet. He just has crazy talent and he showed it. He has a tremendous range and is very passionate. This one is one to watch. Keep your eye on Joshua Ledet. A
And the mystery person who is going to get a second chance at the top 24 is…
Jermaine Jones Dance With My Father
It was pretty predictable that they would bring back 'the gentle giant' after they broke his heart in Hollywood week and showed tons of footage of him sobbing but it was still nice to see his beaming on the stage. The 6'8 Jermaine took advantage of his second chance using his deep baritone voice to nail Luther Vandross' 'Dance With My Father.' I also liked how after his performance he left and Ryan said "wait don't leave" and he laughed saying "ya. I'm here to stay now." A
Overall a good night. Colton confirmed he is a class ahead of the rest. He's my fave with Eben in second and Joshua in third. As far as last night goes, Colton was the best, with Joshua in second and Jeremy in third.