Only two
Saturday Night Live
episodes remain in 2012, and we now know who the hosts will be!
12/8 Jaime Foxx (with musical guest Ne-Yo)
After a short 2-week hiatus,
SNL
will return with actor/rapper/comedian Jaime Foxx hosting for his second time (he previously hosted back in 2000). While I admit I'm not that familiar with Jamie Foxx's work, I know he has a strong comedy background from doing stand-up, starring on his own self titled sitcom, and starring on the sketch comedy series
In Living Color
. He has also starred in many dramatic roles, including his Academy Award winning performance in 2004's
Ray
. This proves that he's both a really funny guy as well as a very talented actor, which usually leads to a great
SNL
host. I'm very excited to see how he does on the show, since I don't recall his first time hosting and can't seem to find any videos online. I did however find this video of Jaime Foxx as his popular recurring character "Wanda" from
In Living Color
:
12/15 Martin Short (with musical guest Paul McCartney)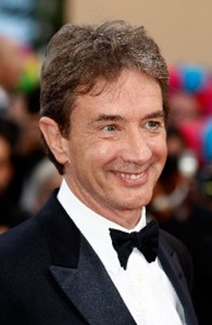 On December 15th,
SNL
's popular "Christmas Show", Martin Short will return to host for his 3rd time. Short actually starred on
SNL
as a cast member during the 1984-1985 season, where he often played his popular character Ed Grimley (which he originated on the Canadian sketch comedy show
SCTV)
. He has since returned to the show to host once in 1986 alongside Chevy Chase and Steve Martin (with whom he was co-starring with in the hilarious Lorne Michaels-produced film
Three Amigos!
) and then once again on his own in 1996. Joining Short on the show is legendary rock star Paul McCartney, who will be musical guest for the 4th time. Paul has been known to show up in sketches when he's on the show, so I'm really looking forward to see what he does this time! Should be a great show! Here's Martin Short as Ed Grimley, Paul McCartney on The Chris Farley Show, and Martin and Paul together making a surprise cameo during a show hosted by Alec Baldwin in 2006 (the last time either man was seen on the show):