In just a few days, one of our all-time favorite shows,
30 Rock
, will end its historic 7 year run on NBC with a big hour-long finale airing Thursday night (1/31) from 8:00-9:00 EST. The show is obviously deeply rooted with one of our other favorite shows,
Saturday Night Live
, as producer Lorne Michaels, Tina Fey, and Tracy Morgan have spent many years on both shows. The show was essentially inspired by Tina Fey's experiences working
as head writer on
SNL
, so it should come as no surprise that
30 Rock
and
SNL
have shared many actors. So in honor of this Thursday's finale, below is a lookback at all of the
SNL
cast members of past and present who have appeared on
30 Rock
over the years. So go ahead and relive some great
30 Rock
memories, and don't forget to watch the finale Thurday night on NBC!
Tina Fey,
who served as head writer and Weekend Update anchor on
Saturday Night Live
from 2000-2006, stars on
30 Rock
as main character Liz Lemon. She's also the show's creator, producer, and often writes many of the episodes.
Tracy Morgan, who starred on SNL from 1996-2003, stars as actor Tracy Jordan on 30 Rock, in a role that's very much based on himself. In this season 1 clip, he releases to the world his hit single "Werewolf Bar Mitzvah":
Rachel Dratch left SNL with Tina Fey in 2006 to star on 30 Rock as the character of Jenna. The part was eventually recast with Jane Krakowski playing the part, but Rachel appeared throughout the first season as a different random character in each episode. In the clip below she plays a cat wrangler:
Chris Parnell plays NBC's in-house doctor Dr. Leo Spaceman (pronounced Spa CHE man). He has appeared on all 7 seasons of 30 Rock, and is one of our personal favorite characters. Here is a montage of some of his funniest medical moments:
Will Forte
has actually appeared on
30 Rock
as two different characters. He first appeared in the season 1 episode "Black Tie" as Tomas, the assistant to the Austrian Prince Gerhardt (pictured to the right). More recently, he has appeared in the recurring role of Paul, a professional Jenna Maroney impersonator who falls in love with (and eventually marries) Jenna Maroney. (You're gonna want to watch the whole clip:)
Jason Sudeikis
, a current cast member on
SNL
, appeared on
30 Rock
as Floyd DeBarber (whose name is a reference to the classic
Andy Griffith Show character
), Liz's boyfriend in season 1:
Will Ferrell
has appeared in three episodes of
30 Rock
as Shane Hunter, star of the fictional NBC series
Bitch Hunter
:
Kristen Wiig
appeared on the season 2 episode "Somebody to Love" as Candace Van Der Shark, the star of the Lifetime movi
e A Dog Took My Face and Gave Me a Better Face to Change the World: The Celeste Cunningham Story

, based on Jack's girlfriend C.C. (Edie Falco):
Amy Poehler, Tina's old Weekend Update co-anchor on SNL, appeared in 30 Rock's second live episode as young Liz Lemon during some flashback scenes:


Jimmy Fallon, Tina's other SNL Weekend Update co-anchor, has appeared in three episodes of 30 Rock. The first two times he played himself, while the third time he played young Jack Donaghy during the show's second live episode. The clip below shows Jimmy Fallon's first apperance as himself. To see him as Jack, check out the following clip for Fred Armisen.


Fred Armisen
first appeared on
30 Rock
as a man who Liz suspected to be a terrorist, but was actually training for
The Amazing Race
(pictured to the right). His second appearance was in the second live episode, where he appeared as various characters throughout the episode, such as in the following clip where he plays a lady answering phones at a telethon, while Jimmy Fallon as young Jack talks to Amy Poheler as young Tina:
Horatio Sanz
appeared on
30 Rock
as Jenna's stalker Maynard. Here is a montage of some of Maynard's greatest stalking moments:
Bobby Moynihan
's
30 Rock
appearance was a worker who incorrectly manufactured Jack's couches:

Tim Meadows appeared in a recent episode as Martin Lutherking, a lawyer who informs Tracy and Jenna that Hazel is suing the show for inappropriate workplace behavior.


Molly Shannon appeared back in season 1 as Jack's sister Katherine Catherine Donaghy.
Siobhan Fallon, who had a short-lived SNL run during the 1991-1992 season, appeared in the same episode as Jack's other sister Patricia. I couldn't find a clip of their appearance, but here's a photo of both of them: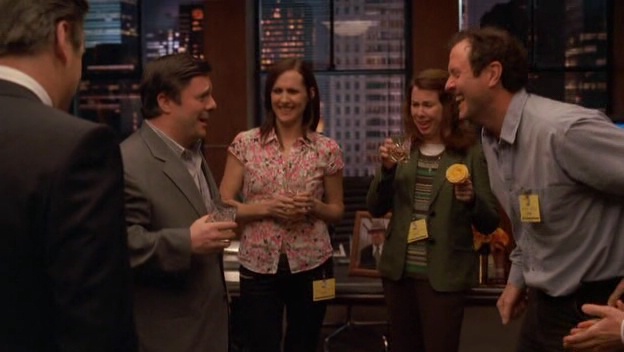 Bill Hader appeared on 30 Rock's first live show as the co-pilot of Liz's boyfriend Carol Burnett (played by Matt Damon). Again, this is just a photo, so don't try to click it. Nothing will happen.
Rob Riggle, who's probably best known for his appearances in The Hangover, 21 Jump Street, and as a Daily Show correspondent, actually starred on SNL as a cast member in the show's 2004-2005 season. He also appeared in the season 5 30 Rock episode "I Heart Connecticut" as Reggie, an NBC employee who fights Pete in an arm wrestling match. (You can watch this one:)

Julia Louis-Dreyfus will forever be remembered as Elaine on Seinfeld, as well as for her starring roles on New Adventures of Old Christine and on her current HBO comedy Veep. But she actually started out as a cast member on SNL for three seasons from 1982-1985. She also cameoed on the first live episode of 30 Rock as Liz Lemon during the cutaway segments:
Jan Hooks
starred on
SNL
for five seasons from 1986-1981. On
30 Rock
, she plays Jenna's manipulative mother Verna:
Honorable Mentions:
John Lutz, who plays TGS writer Lutz, was a writer on SNL from 2003-2010. He also frequently appeared in sketches.
Steve Higgins, who plays the host of the fictional NBC game show Homonyms, has been a SNL writer and producer since 1995. He's also the announcer/sidekick on Late Night with Jimmy Fallon
Gilbert Gottfried, the annoyingly voiced comedian who also voices the Aflac duck and Iago the parrot in Disney's Aladdin, actually starred on SNL in the 1980-1981 season. While he never actually appeared on 30 Rock, his unforgettable voice can be heard in the season 4 episode "Audition Day". In the episode, Liz is auditioning actors to find a new cast member, and one of them does an impression of Gilbert Gottfried. In actuality, Gottfried provided the audio for the impression.
Are there any other that we're missing? Be sure to let us know if you can think of any other SNL cast members who've appeared on 30 Rock. And don't miss the last ever 30 Rock episode on Thursday! Perhaps one of these SNL stars will return? Or better yet, a new SNL star will appear! We'll find out on Thursday!