As I sit in the silent floor of the library, the day before my toughest final exam, I still cannot bring myself to study, and so I check all my usual websites,
one of which is
http://www.blogger.com/www.sitcomsonline.com
.
On the site, they had an interesting news item, about how on a recent episode of The Rachel Ray Show, they had an Iron Chef-style cook off between some audience members, and in honor of Mother's Day this weekend, the cook-off was judged by 3 classic TV moms! The first was Florence Henderson, who of course played Mrs. Brady on
The Brady Bunch
. The second was
Marrion
Ross, who played Mrs. Cunningham on
Happy Days
. And the third was Shirley Jones, who played Mrs. Partridge
on
The Partridge Family
.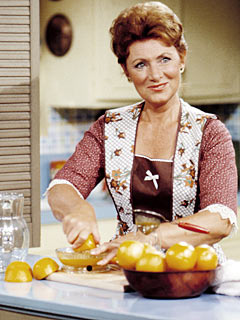 Now I am quite familiar with
The Brady Bunch
and
Happy Days
, so I was quite familiar with those two, but I have never seen
The Partridge Family
before, so I was not expecting to know who Mrs. Partridge was, but when Rachel Ray announced Shirley Jones, and she came out, I thought "Shirley Jones, wasn't she
Marrion
Librarian in
The Music Man
?" Sure enough, she was. I had no idea that she starred on
The Partridge Family
! Maybe someday I should check it out. Anyway, enjoy this Rachel Ray cook-off, judged by classic TV moms, Florence Henderson,
Marrion
Ross, and Shirley Jones:
Oh no! I can't embed the videos!
Grr
, I guess you'll just have to click on the link and watch it on the Rachel Ray site:
http://www.rachaelrayshow.com/show/segments/view/elimination-challenge/