Happy Holidays everybody! I know we're a little late, but with the holiday season comes busyness, followed by laziness. Also with the holiday comes presents! Since we celebrate Chanukkah, we have 8 nights of gifts, and since we love tv (as the name of our blog suggests) most knew enough to get us TV-related presents! So here is a recap of the TV gifts that I received this holiday season: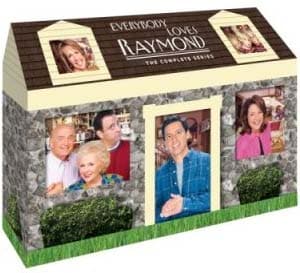 Everybody Loves Raymond-The Complete Series on DVD! I'm a big fan of this show, (I even posted a clip for the TV Clip of the day a few weeks ago) and I love watching it every night on TBS. While I watch it all the time on TV, there are still tons of episodes that I haven't seen before, so I'm glad to own it on DVD!
Get Smart
-The Complete Series on DVD!
I'm sure you all saw the great film version of Get Smart when it came out this summer, but this here is the complete series of the original TV series from 1965. This show was one of my dad's favorite shows when he was growing up, and he always used to talk about how funny it was. A few times, we'd go to the Museum of Television and Radio in New York (the greatest museum in the world!) and at the museum they have a "TV Show Library" where you sort through thousands of TV show episodes that they have in their computer, select the ones you want to watch, and then go to a private viewing booth and watch the shows you selected. We'd always watch an episode of Get Smart or two, and they were always lots of fun. Owning this series will always bring back those great memories, as well as of course providing lots of laughs!

The Office
Trivia Game! I got this board game from my sister and it looks like lots of fun! I haven't had a chance to play it yet, but the game is packed with fun trivia questions from The Office as well as "That's What She Said" cards, Dundie tokens, and "Support the Rabid" wristbands! I can't wait to play it!
Saturday Night Live-The Best of Tracy Morgan
on DVD! I didn't really start watching Saturday Night Live until after Tracy had left, but I have since found him hilarious on 30 Rock, so I was really excited to watch this DVD and see what he was like on SNL! We started going through this DVD and it's filled with some really great stuff! (Ok, and some pretty weird stuff too). Please enjoy our favorite Tracy Morgan sketch on the DVD, Brian Fellows Safari Planet:
Saturday Night Live-The Best of Molly Shannon
! Another great addition to our SNL DVD library, The Best of Molly Shannon! Molly is of course best known for her Mary Kathrine Gallagher character (who starred in her own movie
Superstar!
), but she has also done many other great characters and impressions on the show. We currently love watching her on
Kath & Kim,
I'm really looking forward to enjoying the best of Molly Shannon from her time on SNL!
Saturday Night Live
-
The Best of Eddie Murphy
! Finally, I received yet another SNL DVD! SNL has been on the air for almost 35 years, and while most of the DVDs that I have are from more recent seasons, in the past 10 years or so, I also enjoy seeing what the show was like back in the 70's and 80's. Well, 80's SNL was all about Eddie Murphy. Eddie Murphy has since gone on to be a huge movie star, so many forget that Eddie Murphy got his start on SNL. I saw part of this special on TV a few years ago, and I remember laughing a lot. Can't wait to watch the whole DVD!
Well, it was certainly a great holiday season for me! I got tons of other great gifts as well, but I won't bore you with them, as this blog is only about all things related to TV. I know A got many TV-related gifts too, so I'll leave it up to her if she wants to blog about them. What about the rest of you? Did any of you get any great TV-related gifts this holiday season? Comment back and let us know all about them!